Nutra3 Complex Hair, Skin & Nails
A natural form of beauty is health! Beauty is enhanced through healthy cells that are nourished and protected with proper nutrition -- thus creating . . . Radiant Beauty from Within!®
Nutra3 Complex Hair, Skin & Nails supports the structural foundation, growth, health and radiance of hair, skin and nails using proprietary 100% Whole Food NutraFood Nutrients™. These vitamins and minerals have their necessary peptide and protein carriers attached to provide maximum absorption, utilization and retention which are better than ordinary Isolated USP (United States Phamacopeia) vitamins and minerals.
This proprietary formulation is complete with antioxidants including Vitamin C, Vitamin E and Green Tea Extract (EGCG) and specifically included is Vitamin D3, the natural form of Vitamin D required for the absorption of calcium and phosphorus. Recent studies have shown that many people of all ages are increasingly deficient in this important vitamin.
Radiant Beauty from Within!®
Backed by a quality potency guarantee, Nutra 3 Complex delivers hair, skin and nails radiance from a naturally formulated supplement made with the finest proprietary ingredients in a delivery system that is most useful to the body.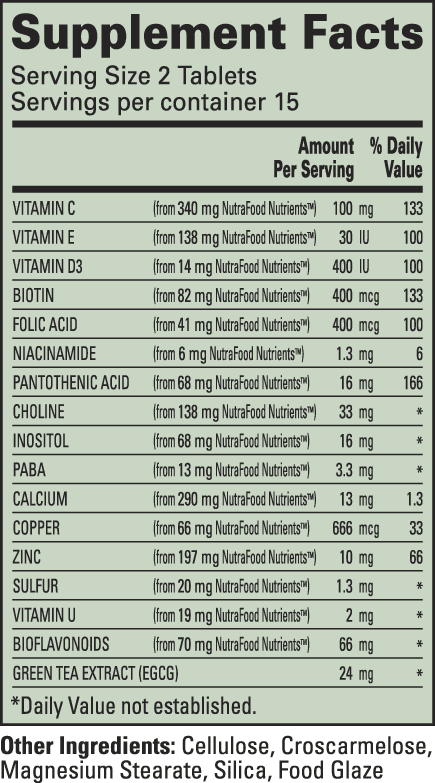 There are no additional images for this product.